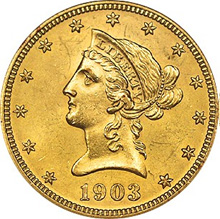 The mintages for the Liberty Head Gold Eagle cover an extremely wide range, with some issues struck in the mere hundreds and other struck in quantities stretching into the millions. Several absolute rarities within the series make assembling a collection a monumental task. The series is divided into the periods 1838-1866 when no motto appears above the eagle on the reverse and 1866-1907 when the motto "In God We Trust" was added.
Production would take place at the Philadelphia, New Orleans, San Francisco, Carson City and Denver Mints in various periods. The coins struck at Philadelphia do not carry a mint mark, while the branch mint coins have a mint mark located on the reverse of the coin, beneath the eagle.
The lowest mintage of this series occurs with the 1875 Liberty Gold Eagle, with just 100 circulation strikes and 20 proof coins minted. Low mintage issues come from every Mint except Denver, which only produced eagles in 1906 and 1907, in reasonable numbers. The lowest branch mint issues were produced in Carson City in 1879 (1,762), in New Orleans in 1883 (800) and San Francisco in 1864 (2,500).
As such a large denomination, Liberty Gold Eagles were meant to circulate, and the majority did just that, creating many condition rarities. This is especially the case for many of the later issues, which are usually considered to be "common". However, in many cases, finding an attractive uncirculated example can be very difficult. The best example of this situation is the 1905-S Liberty Gold Eagle, which had a mintage of 369,250, but only has three coins graded above MS63.
Liberty Gold Eagle Mintages
No Motto on Reverse
1838
7,200
1839
38,248
1840
47,338
1841
63,131
1841-O
2,500
1842
81,507
1842-O
27,400
1843
75,462
1843-O
175,162
1844
6,361
1844-O
118,700
1845
26,153
1845-O
47,500
1846
20,095
1846-O
81,780
1847
862,258
1847-O
571,500
1848
145,484
1848-O
35,850
1849
653,618
1849-O
23,900
1850
291,451
1850-O
57,500
1851
176,328
1851-O
263,000
1852
263,106
1852-O
18,000
1853
201,253
1853-O
51,000
1854
54,250
1854-O
52,500
1854-S
123,826
1855
121,701
1855-O
18,000
1855-S
9,000
1856
60,490
1856-O
14,500
1856-S
68,000
1857
16,606
1857-O
5,500
1857-S
26,000
1858
2,521
1858-O
20,000
1858-S
11,800
1859
16,013
1859-O
2,300
1859-S
7,000
1860
15,055
1860-O
11,100
1860-S
5,000
1861
113,164
1861-S
15,500
1862
10,960
1862-S
12,500
1863
1,218
1863-S
10,000
1864
3,530
1864-S
2,500
1865
3,980
1865-S
16,700
1866-S
8,500
Motto on Reverse
1866
3,750
1866-S
11,500
1867
3,090
1867-S
9,000
1868
10,630
1868-S
13,500
1869
1,830
1869-S
6,430
1870
3,990
1870-S
8,000
1870-CC
5,908
1871
1,790
1871-S
16,500
1871-CC
8,085
1872
1,620
1872-S
17,300
1872-CC
4,600
1873
800
1873-S
12,000
1873-CC
4,543
1874
53,140
1874-S
10,000
1874-CC
16,767
1875
100
1875-CC
7,715
1876
657
1876-S
5,000
1876-CC
4,696
1877
797
1877-S
17,000
1877-CC
3,332
1878
73,780
1878-S
26,100
1878-CC
3,244
1879
384,740
1879-O
1,500
1879-S
224,000
1879-CC
1,762
1880
1,644,840
1880-O
9,200
1880-S
506,250
1880-CC
11,190
1881
3,877,220
1881-O
8,350
1881-S
970,000
1881-CC
24,015
1882
2,324,440
1882-O
10,820
1882-S
132,000
1882-CC
6,764
1883
208,700
1883-O
800
1883-S
38,000
1883-CC
12,000
1884
76,860
1884-S
124,250
1884-CC
9,925
1885
253,462
1885-S
228,000
1886
236,100
1886-S
826,000
1887
53,600
1887-S
817,000
1888
132,921
1888-O
21,335
1888-S
648,700
1889
4,440
1889-S
425,400
1890
57,980
1890-CC
17,500
1891
91,820
1891-CC
103,732
1892
797,480
1892-O
28,688
1892-S
115,500
1892-CC
40,000
1893
1,840,840
1893-O
17,000
1893-S
141,350
1893-CC
14,000
1894
2,470,735
1894-O
107,500
1894-S
25,000
1895
567,770
1895-O
98,000
1895-S
49,000
1896
76,270
1896-S
123,750
1897
1,000,090
1897-O
42,500
1897-S
234,750
1898
812,130
1898-S
473,600
1899
1,262,219
1899-O
37,047
1899-S
841,000
1900
293,840
1900-S
81,000
1901
1,718,740
1901-O
72,041
1901-S
2,812,750
1902
82,400
1902-S
469,500
1903
125,830
1903-O
112,771
1903-S
538,000
1904
161,930
1904-O
108,950
1905
200,992
1905-S
369,250
1906
165,420
1906-D
981,000
1906-O
86,895
1906-S
457,000
1907
1,203,899
1907-D
1,030,000
1907-S
210,500