The 1838 Liberty Head Gold Eagle (Buy on eBay) represents the first issue of the broader series, as well as the first issue of a two-year subtype. It also carries a relatively limited mintage of 7,200 pieces and a low survival rate.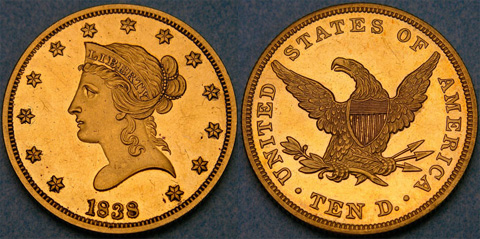 The obverse design of this subtype is distinct from later issues due to the long truncation of Liberty's neck and a partly covered ear. The reverse also features larger lettering than would be used for the remainder of the series. The so-called "Type of 1838" was used for 1838 and part of 1839 before the "Type of 1840" was adopted.
From the original mintage struck for circulation, fewer than 100 examples are estimated to have survived. Most have been heavily circulated and only a handful of uncirculated specimens exist, with the two finest known pieces graded MS-63.
A small number of proofs were struck for this year, with only three known survivors. One example resides within the Smithsonian Institution, while the other two examples are in private collections. These have been off the market for many decades and are extremely desirable as representatives of the first proof issue of the series.
Coin Specifications
Designer: Christian Gobrecht
Composition: 90% Gold, 10% Copper
Weight: 16.718 grams
Diameter: 27 mm
Edge: Reeded