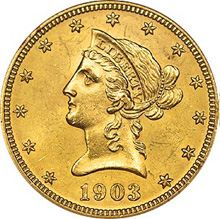 The mintages for the Liberty Head Gold Eagle cover an extremely wide range, with some issues struck in the mere hundreds and others struck in quantities stretching into the millions. Several absolute rarities within the series make assembling a collection a monumental task.
The lowest mintage of this series occurs with the 1875 Liberty Gold Eagle, with just 100 circulation strikes and 20 proof coins minted. Low mintage issues come from every Mint except Denver, which only produced eagles in 1906 and 1907, in reasonable numbers. The lowest branch mint issues were produced in Carson City in 1879 (1,762), in New Orleans in 1883 (800) and San Francisco in 1864 (2,500).
Numerous conditional rarities for the series also exist due to extensive local circulation. This includes a number of earlier issues for which no suriving examples exist in mint state grades, as well as later issues which are extremely difficult to find in gem condition.
Liberty Gold Eagle Mintages
| No Motto on Reverse | Mintage |
| --- | --- |
| 1838 | 7,200 |
| 1839 | 38,248 |
| 1840 | 47,338 |
| 1841 | 63,131 |
| 1841-O | 2,500 |
| 1842 | 81,507 |
| 1842-O | 27,400 |
| 1843 | 75,462 |
| 1843-O | 175,162 |
| 1844 | 6,361 |
| 1844-O | 118,700 |
| 1845 | 26,153 |
| 1845-O | 47,500 |
| 1846 | 20,095 |
| 1846-O | 81,780 |
| 1847 | 862,258 |
| 1847-O | 571,500 |
| 1848 | 145,484 |
| 1848-O | 35,850 |
| 1849 | 653,618 |
| 1849-O | 23,900 |
| 1850 | 291,451 |
| 1850-O | 57,500 |
| 1851 | 176,328 |
| 1851-O | 263,000 |
| 1852 | 263,106 |
| 1852-O | 18,000 |
| 1853 | 201,253 |
| 1853-O | 51,000 |
| 1854 | 54,250 |
| 1854-O | 52,500 |
| 1854-S | 123,826 |
| 1855 | 121,701 |
| 1855-O | 18,000 |
| 1855-S | 9,000 |
| 1856 | 60,490 |
| 1856-O | 14,500 |
| 1856-S | 68,000 |
| 1857 | 16,606 |
| 1857-O | 5,500 |
| 1857-S | 26,000 |
| 1858 | 2,521 |
| 1858-O | 20,000 |
| 1858-S | 11,800 |
| 1859 | 16,013 |
| 1859-O | 2,300 |
| 1859-S | 7,000 |
| 1860 | 15,055 |
| 1860-O | 11,100 |
| 1860-S | 5,000 |
| 1861 | 113,164 |
| 1861-S | 15,500 |
| 1862 | 10,960 |
| 1862-S | 12,500 |
| 1863 | 1,218 |
| 1863-S | 10,000 |
| 1864 | 3,530 |
| 1864-S | 2,500 |
| 1865 | 3,980 |
| 1865-S | 16,700 |
| 1866-S | 8,500 |
| No Motto on Reverse | Mintage |
| --- | --- |
| Motto on Reverse | Mintage |
| 1866 | 3,750 |
| 1866-S | 11,500 |
| 1867 | 3,090 |
| 1867-S | 9,000 |
| 1868 | 10,630 |
| 1868-S | 13,500 |
| 1869 | 1,830 |
| 1869-S | 6,430 |
| 1870 | 3,990 |
| 1870-S | 8,000 |
| 1870-CC | 5,908 |
| 1871 | 1,790 |
| 1871-S | 16,500 |
| 1871-CC | 8,085 |
| 1872 | 1,620 |
| 1872-S | 17,300 |
| 1872-CC | 4,600 |
| 1873 | 800 |
| 1873-S | 12,000 |
| 1873-CC | 4,543 |
| 1874 | 53,140 |
| 1874-S | 10,000 |
| 1874-CC | 16,767 |
| 1875 | 100 |
| 1875-CC | 7,715 |
| 1876 | 657 |
| 1876-S | 5,000 |
| 1876-CC | 4,696 |
| 1877 | 797 |
| 1877-S | 17,000 |
| 1877-CC | 3,332 |
| 1878 | 73,780 |
| 1878-S | 26,100 |
| 1878-CC | 3,244 |
| 1879 | 384,740 |
| 1879-O | 1,500 |
| 1879-S | 224,000 |
| 1879-CC | 1,762 |
| 1880 | 1,644,840 |
| 1880-O | 9,200 |
| 1880-S | 506,250 |
| 1880-CC | 11,190 |
| 1881 | 3,877,220 |
| 1881-O | 8,350 |
| 1881-S | 970,000 |
| 1881-CC | 24,015 |
| 1882 | 2,324,440 |
| 1882-O | 10,820 |
| 1882-S | 132,000 |
| 1882-CC | 6,764 |
| 1883 | 208,700 |
| 1883-O | 800 |
| 1883-S | 38,000 |
| 1883-CC | 12,000 |
| 1884 | 76,860 |
| 1884-S | 124,250 |
| 1884-CC | 9,925 |
| No Motto on Reverse | Mintage |
| --- | --- |
| 1885 | 253,462 |
| 1885-S | 228,000 |
| 1886 | 236,100 |
| 1886-S | 826,000 |
| 1887 | 53,600 |
| 1887-S | 817,000 |
| 1888 | 132,921 |
| 1888-O | 21,335 |
| 1888-S | 648,700 |
| 1889 | 4,440 |
| 1889-S | 425,400 |
| 1890 | 57,980 |
| 1890-CC | 17,500 |
| 1891 | 91,820 |
| 1891-CC | 103,732 |
| 1892 | 797,480 |
| 1892-O | 28,688 |
| 1892-S | 115,500 |
| 1892-CC | 40,000 |
| 1893 | 1,840,840 |
| 1893-O | 17,000 |
| 1893-S | 141,350 |
| 1893-CC | 14,000 |
| 1894 | 2,470,735 |
| 1894-O | 107,500 |
| 1894-S | 25,000 |
| 1895 | 567,770 |
| 1895-O | 98,000 |
| 1895-S | 49,000 |
| 1896 | 76,270 |
| 1896-S | 123,750 |
| 1897 | 1,000,090 |
| 1897-O | 42,500 |
| 1897-S | 234,750 |
| 1898 | 812,130 |
| 1898-S | 473,600 |
| 1899 | 1,262,219 |
| 1899-O | 37,047 |
| 1899-S | 841,000 |
| 1900 | 293,840 |
| 1900-S | 81,000 |
| 1901 | 1,718,740 |
| 1901-O | 72,041 |
| 1901-S | 2,812,750 |
| 1902 | 82,400 |
| 1902-S | 469,500 |
| 1903 | 125,830 |
| 1903-O | 112,771 |
| 1903-S | 538,000 |
| 1904 | 161,930 |
| 1904-O | 108,950 |
| 1905 | 200,992 |
| 1905-S | 369,250 |
| 1906 | 165,420 |
| 1906-D | 981,000 |
| 1906-O | 86,895 |
| 1906-S | 457,000 |
| 1907 | 1,203,899 |
| 1907-D | 1,030,000 |
| 1907-S | 210,500 |